MORGAN HILLIER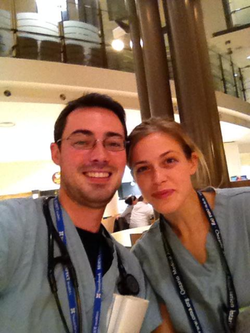 Current Field: Medicine
Favourite Original Kids Show: Lucky Stiff

Current Job and Employer
I am currently an emergency medicine resident with the University of Toronto. I'm just finishing up my fourth year and have one more to go before I take a job as a full-time emergency doctor. My other area of interest is in medical education and I am currently completing a masters of health sciences education with McMaster University.

What is one of your favourite Original Kids Memories?
As many of you know, I lived and breathed Original Kids Summer Camp! Though I have many memories of great friends, fun performances and wonderful mentors, my favorite memory was of one of my campers when I was a teenaged counsellor. He wanted to do a "velociraptor" impression complete with costume and sounds for our camp talent show. Beforehand he got cold feet and it took me a lot of convincing to get him out on stage. The wonderful campers and staff gave nothing but support and a standing ovation for his performance. He walked off stage with confidence and a smile I won't forget. That is the beauty of theatre!!

---
How did Original Kids impact you to where you are today?
My career is about so much more than academics. It is about teamwork, communication, perseverance and an understanding of the human condition. Working with a theater group is an amazing way to cultivate these life-skills as we mature. No one says that adolescence is easy! I was so fortunate to have an amazing group of theatre friends and the supportive structure of OKTC while I navigated this path to adulthood. Some of my very best friends are still those whom I met in Original Kids' production of Annie Warbucks at the age of 13!

What lessons did you take from Original Kids that you feel are still applied in your daily occupation?
Confidence is key! Get out on stage and belt it out! You have an audience and they should be captivated by you! Well of course it's not nearly as dramatic in my current career. However, the confidence to coordinate a trauma team or lecture 200 medical students… Original Kids definitely helped with that!


"We see so much in the news about bullying these days - kids (and adults) without the ability to accept differences. I remember speaking with my dear friend Vicki St. Pierre while we were both working for the Original Kids summer camp. She had heard about an incident at another venue where a child was being bullied and remarked "Bullying? We just don't see that here." And she was right! In the 8 years at that camp I didn't come across it once. This folks, is another wonderful aspect of children's theatre! Who wouldn't want to expose their child to this kind of supportive, safe environment?! So I wanted to conclude by saying thank you to the volunteers, staff, kids and young adults who created this incredible organization and who continue to make it thrive!"