AMBER MARSHALL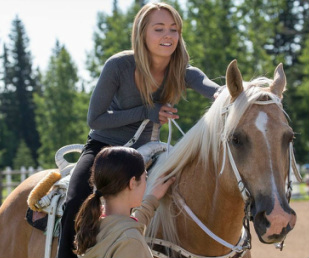 Current Field: Film & TV
Favourite Original Kids Show: The Ragged Child

​Current Job and Employer
I am currently going into my ninth year playing a leading role on a CBC Canadian television show called Heartland. This is the story of a family ranch set in modern time and follows the Bartlett/Fleming family through the ups and downs of ranching life. My character, Amy Fleming, has inherited her mother's gift of horse communication. After witnessing the sudden death of her mother in the 1st season, Amy has had a long journey of empowering strength and devotion to help troubled equines just like her mother once did. We film each year from May until December and in that time complete 18 hour-long episodes to complete a season. Having now completed 139 episodes plus a 2-hour movie, Heartland has become the longest running Canadian 1-hour drama.
---
What is one of your favourite Original Kids Memories?
I was 8 years old when I first joined the OKTC. One of my favourite memories was being able to expose my creative side as a child in an atmosphere where ridiculous creativity among kids my age was not only accepted but also encouraged. There were no wrong ideas, no judgment, just constructive and playful fun. Prior to my days as an Original Kid I would constantly put on solo plays for my poor parents who I would force to sit and watch as I'd ad lib my way through what I'm sure was a painfully long story about nothing. Joining the OKTC gave me a structured outlet to showcase my dramatic side.
How did Original Kids impact you to where you are today?
Working in film and television takes an extreme amount of dedication and I owe much of that to my foundation at the Original Kids Theatre Company. I work on set for 60-70 hours per week for 7 months out of the year. During the winter months I travel to attend signings and other publicity events. On top of that I have a 100-acre farm to look after with 35 animals. All of this takes a very structured daily life to balance. I think back to my OKTC days when I would have schoolwork, chores at home and a play to rehearse throughout the week and lines to memorize. As a kid, I chose to add the extra workload because I loved the experience so much. No one forced me to attend rehearsals; I just couldn't get enough of it. I still feel as though acting is not a job. I have so much fun each and every day that I forget this is what I do for a living.

Photo Credits: Andrew Bako, Denise Grant

What lessons did you take from Original Kids that you feel are still applied in your daily occupation?
Theatre was my very first look into the world of Dramatic Arts, and Original Kids gave me such a solid foundation of confidence and love for this industry. Now I go to work every day and get to play. If I had not been involved with OKTC I may have never known the actor that hides inside me. It was on that stage over 15 years ago that I learned how to control my nerves in front of a crowd. It was that stage that taught me discipline and to be fully prepared for a job. If you walked out on stage with unprepared content then you would be letting down your whole team. I take this lesson with me to work every day and I am never under-prepared for the day's work.

I met many great people during my time at The Original Kids Theatre Company. I really can't thank them enough for helping make me the person I am today. My current work on Heartland has taken me out to Alberta where I now live full time. It is my hope that I can find a similar organization out west for my own children in the future. I think it is so important for children to overcome their fear of emotional exposure. Being on stage, you are forced to let go of insecurities and personal doubt. To be able to conquer this as a young child makes everything else in life less stressful. Even if you never plan to continue a career in the Dramatic Arts, you will gain such valuable life skills. Going to job interviews, or having to perform a public speech, will come much smoother. I am so fortunate to say that The Original Kids Theatre Company was a part of my childhood, one I will never forget.
---